Lease VS. Rent
Why leasing taping tools is better than renting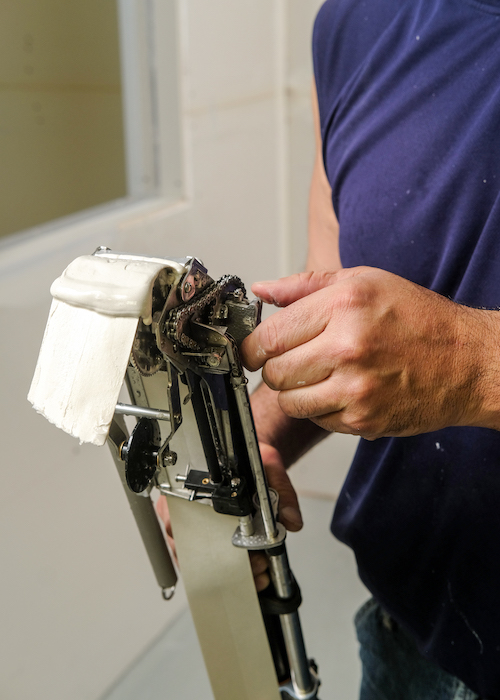 1. Managing Cash Flow: The cost of leasing is almost always less than the monthly cost of renting. The average cost of renting a set of tools is about $320/month ($3840/year) whereas leasing can be as low as $99/Month.
2. Theft Protection: When your rental tools are stolen, the rental companies often charge contractors an unreasonable amount to recover the costs of the stolen tools. However, for an extra $5-6 a month/per set, our leasing program provides insurance to protect against theft and non-usage related damages.
3. Skip Payments: If you decide to lease multiple sets of tools, you may be eligible to skip payments during certain months of the year. This is a great option if your business is affected by seasonal conditions or if you are short on cash flow during certain months of the year. Missed payments are however required to be made up during the course of the year.
For example:
If you are leasing $10,000 worth of equipment over 3 years, your payments might be $360/month. If you skip a month of payments, your payments increase to $444/month. If you skip two payments, your payments increase to $493/month. That's still less than renting 2-3 sets!
You may also be eligible for initial 90 day delay payments, Step Up Payments, and Step Down Payments....
4. Ownership or Factory Fresh Equipment: You can own the tools at the end of the Lease or you can choose to lease another new "Factory Fresh" set of tools. We suggest you take advantage of the dollar buy out at the end of the lease and own the tools since they were built to last and you can save yourself some money. However, we won't stop you from leasing a new set of our tools.
5. Tax Benefits: Since this varies from state to state, we recommend contacting a CPA for more information.
We would also like to address one area of Rental Propaganda that we call into question: Maintenance Costs. Although all Automatic Taping Tools require maintenance, some are built with parts that are intended to last longer than others are. We at Drywall Master Tools believe that we use the best quality alloys and materials in our tools so that they will require minimal maintenance. We stand by that belief with a 5 Year Warranty. On a three-year lease, this should alleviate your concerns about the costs of maintenance. We do not believe in planned obsolescence. Remember that when your rental sales people (who are worried about losing thousands a year on your business!) try to keep you from buying, and they are talking about the high costs of maintenance, they are probably referring to another brand.
We realize that we are not the first manufacturers of Automatic Taping Tools to offer a Lease to Own Program. However, we do believe that we are the first to offer the program with tools that offer such a high level of compatibility and interchangeability to the tools that are most often rented and owned on the market today. For contractors looking to make the switch, we have the solution!
We offer options on Leases between 2 to 5 years. Call your local dealer or Drywall Master for an Application today!
Don't have Adobe Reader? Get it here.
Once you have filled it out, you can fax it to 708-366-4077, or email it to info@drywallmaster.com
Once, we have received your application, we will have someone contact you regarding how much you can save on leasing our Automatic Taping Tools. You might be surprised!