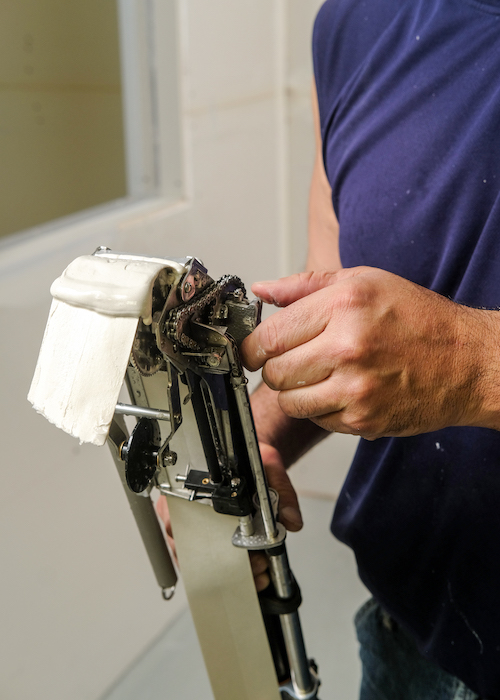 For drywall contractors looking to up their speed and output – and their profitability – automatic taping tools are a great way to go. These tools improve the consistency of your results while greatly reducing the time it takes to achieve them. So what exactly are they, what do they do, and who are they right for?
Simply put, automatic tapers like the Drywall Master Taper apply both tape and mud to butt joints, corner joints, and ceiling joints. The automatic action applies the right amount of mud between the tape and the wall, and does so every time, regardless of the user's ability or speed. This means that less experienced workers can handle the job on their own, and more experienced craftsmen will be able to cut their time down considerably. In either case, the results will be more professional and save on labor cost increasing both profitability and customer satisfaction.
Is an Automatic Taper Right for Me?
Automatic tapers are not right for everyone. If you do small remodeling projects or are a DIY weekend warrior, you will find an automatic taper unnecessary. However, all high-volume drywall professionals should seriously consider an automatic taper. Auto tapers are best suited to larger projects because though they save a lot of time on the job, they do take longer to clean and require maintenance, often making them not worth it for a small job. Other factors to consider, due to cost, they are a big investment upfront, especially for a well-made, high-quality tapers, but they're an investment in your business, and one that, used correctly and often, will pay for itself.
How to Choose the Right Automatic Taper
There are a few key criteria to keep in mind when choosing an auto taper:
Weight: lighter tools put less stress on the body (your most important tool). Give some serious thought to how much weight you are willing to carry around. Most tapers today are made from aluminum, you can also find lightweight carbon fiber tapers that reduce the physical wear and tear on your body.
Durability: obviously, when making an investment, you want to make sure it will last. A good taper should hold up for a long time, be repairable, and have parts readily available to keep you running. Buying a brand whose parts are made in America ensures both durability and availability, saving you downtime and money over the life of the device. To get a good read on how well you can expect the taper to hold up, be sure to look at these key components:

Stainless Steel and Hard Anodized Parts: any parts made from standard aluminum will struggle when they come into contact with joint compound. Compound is very abrasive and will quickly chew through a soft metal like aluminum. For this reason, look for tools that are made from stainless steel or that feature a hard-anodized coating. Either will slow the wear and tear that joint compound exerts on the device, especially on key parts like the taper tube and cable drum that are in constant contact with compound.
One-Piece Construction: whenever possible, favor robust construction with minimal welding. Welds are weak compared to one-piece construction, and provide stress points where parts can snap or bend. This is especially crucial for areas like the corner finisher/angle head frame, which is prone to bending or breaking if not machined from a single piece. Drywall Master is the only company on the market to CNC machine their frames from a single piece of stainless steel for the strongest possible construction.
Maintenance, Repairs, and Customer Service
Of course, even the best-made tools need a tune-up from time to time. Fortunately, the time between repair cycles can be extended tremendously without proper care and maintenance. The most important thing is to clean your automatic taper thoroughly with a brush and water after each use. Flush the taper head thoroughly and then apply a light machine oil (NOT WD-40 or any petroleum-based lubricant) to the wear parts.
As for repairs one of the best cost-savers is to find a taper that shares commonly used interchangeable parts, allowing you to easily find replacements, even when the original equipment manufacturer or local shop are out of stock on your brand. Compatibility with TapeTech parts is particularly useful due to the quality of their parts and wide distribution.
Finally, before you take the plunge and buy your taper, give customer service a call. This can give you a good idea about the experience you'll have when you eventually need to have the device repaired. Are the staff knowledgeable, friendly, and is the contact information easy to find? All of these things can be important in saving time and stress if you need repairs when you're up against a deadline.
To reach Drywall Master customer service, call (708) 366-2600 to speak with someone about your upcoming purchase and to answer any questions you might have. You may also schedule a time to video chat with customer service to diagnose your tool on the spot.
Final Thoughts: Cost, Value, and Renting versus Leasing
Once you decide that an automatic taper is right for your business, it's helpful to remember that while cost is important, value – what you get for the money – is much more crucial. It is recommend that you invest in an automatic taper that's considered "mid-range" or above. Over the long term, you'll save money and see even better results and less downtime than if you get an introductory level taper.
If the upfront cost is too much, look at leasing as an alternative to renting. In general, leasing typically offers lower monthly payments, more flexible repayment options (such as skipping payments and making them up later if your work is seasonal) and theft protection. You can find more information on leasing from Drywall Master.
If you're working at a scale where automatic taping tools make sense, or if you rent them regularly, feel good about taking the plunge. Owning the right tools for not only the jobs you have, but for the jobs you want will help you grow your business.